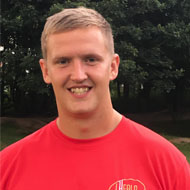 Having spent the past 8 years working in education, I have developed a love for helping all children flourish within Physical Education.
My career has seen me teach overseas during my time in Belgium, and then return to the UK to oversee the development of school rugby in Bury St Edmunds.
Since my return I have worked with schools across London and the South-East to deliver bespoke teacher training programmes in order to increase the quality of provision within the region. As part of this role I have tutored on the AfPE Level 5 Certification in Primary Physical Education, which has given me first hand experienced of supporting subject leaders in their development.
My experience has given me the tools to be able to work alongside both SLT and class teacher's alike, providing operational and strategic support to ensure all children receive the outstanding experience of Physical Education that they deserve.
Description

Where:    Barns Elms Sports Trust, SW13 0DG
When:     Tuesday 16th June (for 6 consecutive weeks)
Time:       Slots of 1 hour at: 17.00-18.00, 18.15-19.15,      19.30-20.30
Ages:        U11 – U18
Price:       £100

Drop in sessions available (£20 per evening)

Description

J.Heald Coaching 2020 Summer Performance Programmes

J.Heald Coaching is a company which prides himself on player development, working with aspiring younger players with a sole purpose of developing players' Get your Summer 2020 Performance Programme by the 31st March & receive your discounted programme

For any queries Call Jack on 07852 231 546

Description

J.Heald Coaching 2020 Summer Performance Programmes

J.Heald Coaching is a company which prides himself on player development, working with aspiring younger players with a sole purpose of developing players' Get your Summer 2020 Performance Programme by the 31st March & receive your discounted programme

For any queries Call Jack on 07852 231 546

Description

J.Heald Coaching 2020 Summer Performance Programmes

J.Heald Coaching is a company which prides himself on player development, working with aspiring younger players with a sole purpose of developing players' Get your Summer 2020 Performance Programme by the 31st March & receive your discounted programme

For any queries Call Jack on 07852 231 546